La casa de la familia Orange Export es
edificación sostenible que refleja nuestra convicción y responsabilidad por
salvaguardar la vida y el planeta. 
Construida con tecnología de punta,
nuestras instalaciones procuran la neutralidad de CO2 de su actividad
industrial, gracias al uso de energías limpias, la recolección, potabilización
y utilización de aguas lluvias, desde su construcción fue pensada para ser un
lugar amigable con el medio ambiente, hecha con materiales responsables que aprovechan
al máximo los recursos. Posee aislamiento térmico, aprovecha la luz natural y
las aguas lluvias, e implementación áreas verdes como sumideros y captadores de
carbono. 
El funcionamiento de esta planta inició en abril de 2022
EL 90% de la energía 
proviene de fuentes
 limpias. 
Sistema de captación y 
tratamiento de aguas
 lluvias.
Aislamiento térmico del
calor gracias a
materiales de última
tecnología.
Ingreso y
Aprovechamiento
de luz natural.
Sumideros naturales de CO2. 
ser empresa con un sentido de familia...
…que mejora las prácticas agrícolas de sus productores, promoviendo la producción orgánica, biodinámica, respetando los ciclos de la naturaleza.
Estamos orgullosos de poder garantizar una cadena de comercialización y un precio justo todo el año al productor, en pro del mejoramiento de su calidad de vida.
Ser un referente en colombia.
Producimos una fruta con alto valor nutricional, libre de residuos agroquímicos, obtenida de un proceso equilibrado, implementando prácticas agrícolas que reducen al máximo la huella de carbono. 
Empoderamos a pequeños productores agrícolas y ayudamos a transformarlos en empresarios del sector agrícola colombiano. 
Colombia's Orange Export expands, start building packing warehouse
by Holland House | Jul 6, 2021 | News
Orange Export is Colombia's top organic lime exporter. It's begun construction on a new site for packaging organic fruit. That's in Zona Franca, Santander, Colombia.
"It's time for a modern, much larger processing space," says CEO Ray van Vilsteren. "In the new facility, there's room not only for the expected organic lime volume growth. But also for developing new product lines. We're already testing fresh products like grapes, sweet potato, and ginger. All organic, of course."
The new 3,300m2 warehouse will have its own power and water. That's thanks to solar panels and rainwater tanks. "We should be able to do a trial run in early 2022. We can then officially open in February. Hopefully, that will coincide with the departure of our 500th container."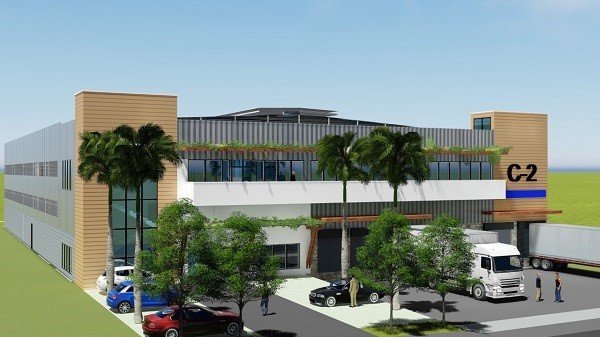 The development provides room for further chain integration. "We already do consumer packaging for our Colombian client (Éxito). We'd like to eventually offer that service to our European buyers too. The building will also house a juice extraction line for Class II citrus. We're planning to have an optical sorting machine for fresh fruit too. That will allow us to sort more precisely to meet the different markets' needs," says Ray.
This is an important expansion for the company. It calls itself a 'commercial cooperative. "Not only Orange Export benefits from the investment. This upscaling offers opportunities to more farmers and growers too. They can sell their organic products on the international market."
"We'll also focus on multiple fruit varieties. So, we can also develop opportunities in other parts of the Santander region. Those are less suitable for organic limes cultivation. But, they're perfect for other crops," explains Van Vilsteren.
Ray, who's originally from the Netherlands, is very ambitious. "We want to buy the adjacent property too."
Colombia's Orange Export SAS is a fast-growing commercial cooperative. It has 64 organic lime farmers. "In 2018, Orange Export began introducing biodynamic farming techniques. That was under the guidance of Klaus Merckens and Ingo Morthorst."
"It was a three-year partnership and a steep learning curve. But, now Abelardo Herrera is the first of many Orange Export growers to obtain his full-Demeter certificate," Ray said in an earlier FreshPlaza article.
For more information:
Ray van Vilsteren
Export Orange SAS
Module 1, Bodegas Colmuebles
Tel +57 (7) 63 935 81
Email: info@orange-export.com
Website: www.orange-export.com
Bron: https://www.freshplaza.com/article/9334825/colombia-s-orange-export-expands-start-building-packing-warehouse/#.YNx0Z7YLmNI.linkedin
Orange Export
Zona Franca Santander Lote 2 Manzana C, Floridablanca, Santander – Colombia.
Correo Electrónico: info@orange-export.com
Teléfono: +60 (7) 7008750 Wp: +(57) 3183678617
Orange Export © 2021